Hearing Preparation
on an entirely new level.
Delium has been designed to replicate the way litigators think and work, as they approach and engage at trial.
Pre-Hearing Evidence Management & Presentation
Delium has been designed to replicate the way litigators and Adjudicators think and work. Delium is an excellent solution for small to medium-sized evidence collections, representative of over 90% of all litigation. Delium's intuitive interface and analysis tools are easy to set up and once documents have been uploaded to Delium, Users find that they are easily able to search, review and analyse documents without ongoing consultancy support. Users can self-sufficiently:
upload evidence to the Delium case
Simultaneously view both public data and private analysis when viewing the evidence
Create private Publication Lists detailing documents to be presented to witnesses, noting particular pages and points of interest
Upload private cross-examination notes hyperlinked to the documents to be presented to a witness
Review the automatically generated hearing record at the end of a witness examination or day of hearings
Delium allows you to access evidence quickly right from the home page, without even running a search. Click on a folder in the 'virtual bookcase'. Open a bundle of documents for targeted review. Choose a particular document type or select one of the top 100 most frequent words in your evidence. A couple of clicks and you are reviewing your evidence.
 If you want to run a search you can start with a document ID or single word or phrase, just like in Google, and Delium will find relevant documents across your whole case.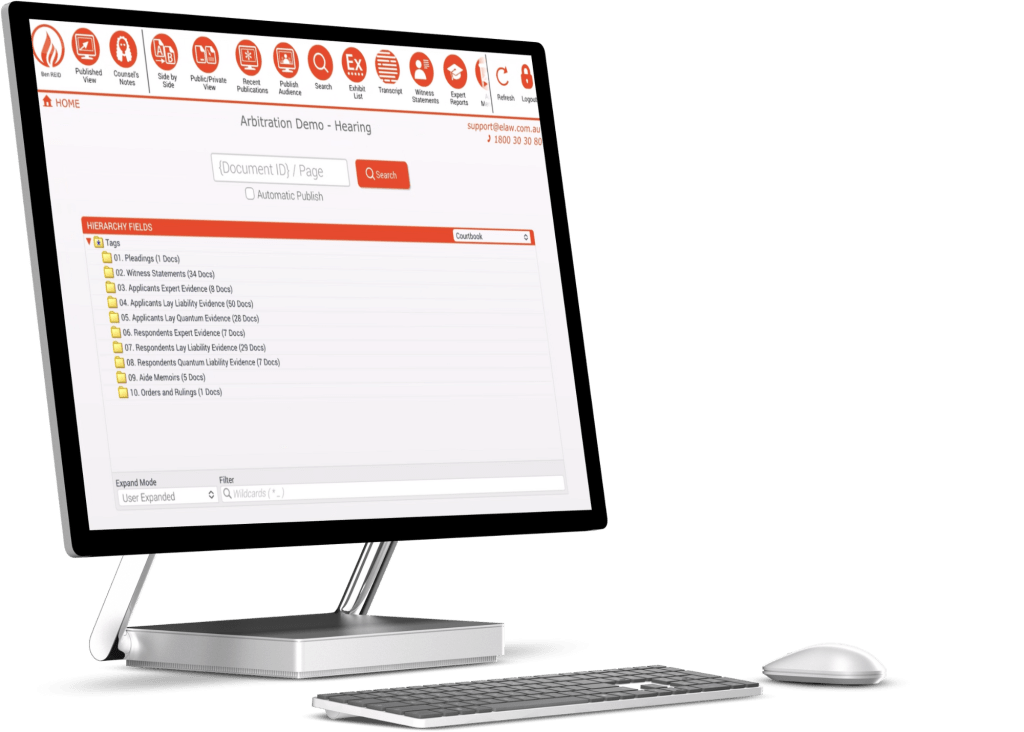 The course of the hearing was greatly accelerated" … "I would estimate in the vicinity of 25to 30 per cent with proportional cost savings"
Justice John Slattery
AO, QC
"a better "Quality of Justice", by: increasing the capacity to better examine the full range of evidence, allowing more witnesses and more exhibits, in less time, and allowing more access to the courts.
The Hon. Justice Tim Smith
Supreme Court of Victoria
"it (Delium - Systematics Court) was a pleasure to use" … "I have since returned to the comparative frustration of conventional techniques of using hard copy documents and transcript"
Justice David Bleby
South Australian Supreme Court
"The use of evidence presentation technology (Delium) accelerated the proceedings by at least 50%, probably significantly more".
Justice Trevor Cooper
High Court of New Zealand
"The Trial ran for 158 days without specialist operational support"
Justice Trevor Cooper
High Court of New Zealand